Safety Tips/Checklist
Your Home Safety and Security Checklist
When you leave your home for a long period, be sure to create the illusion that someone is home. You can put your lights on timers, leave a television on, or have a friend or family member stay at your home while you are away.
Check to see if all of your doors have good, updated locks that work properly. If not, replace them immediately.
Install a peephole in your front door so you can see who is outside before letting them in.
Never leave extra keys or garage door openers under doormats, in mailboxes, or on top of the doorframe. Instead, leave an extra key with a close friend, neighbor, or family member who you trust.
You can make any windows or sliding glass doors extra secure by laying a piece of wood or metal along the bottom track, preventing the window or door from opening from the outside.
Always keep garage doors shut.
You should keep you blinds and drapes shut. Don't advertise the items in your home for the outside world, especially at night.
Store expensive jewelry, electronics, and important documents in a safe at home or even better, a safe deposit box at your local bank.
Never leave a note on the door when you are away from home. This is a clear signal that no one is home, and a nice invitation for any criminal to come inside.
When you are away for extended periods, ask a neighbor or family member to collect your mail, newspapers, and any deliveries you may have collected. This is a clear indicator that no one is home.
Home Fire Safety
Be sure to use fire resistant materials when building a new home.
It is never a good idea to leave candles, or any other open flames unattended in your home.
Make sure cigarette butts are completely out before throwing them in the trash.
Never leave hot irons, curling irons, grills, and etc. unattended.
Clear dry and dead leaves, trees, and grass from your yard on a regular basis.
Be sure to store firewood away from your home.
Install smoke alarms on each floor of your home, check batteries regularly, and test them at least once per month.
When cooking, don't leave pots or pans unattended on the stove.
Make sure you and your family has a fire escape plan. Practice the plan and make sure everyone in your home knows exactly what to do in case of a fire.
Ensure that your street address is easily visible, allowing emergency personnel to find your home quickly.
Landscaping Affects Home Security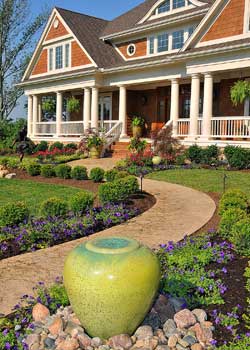 Landscaping is a large part of a good home security plan. Intruders scoping out a place to target look for a home that provides the biggest advantage to their escape. Things such as tall shrubs and trees, and little to no outdoor lighting, all pose potential threats. Fortunately, there are many small changes that can be made to landscaping in order to increase home security and still be aesthetically pleasing.
It is important to mow the lawn regularly. A yard that is un-kept suggests to thieves that the owners are away.
Tree branches can be used as a ladder for the intruder to climb into a window or a skylight. Although this is a big risk, completely eliminating trees is not necessary. Instead, keep trees trimmed back from the house.
Trim back shrubs growing near doors and walkways so that the path to enter and exit the house is never blocked. Shrubs should be kept at 3 feet or shorter in height so as not to provide a hiding place for an intruder.
Deter thieves from entering through windows by planting thorny bushes around them. Plants with thorns protect like barbed wire, while being visually attractive.
Keep fence gates locked or latched at all times.
Do not leave ladders out in plain view because they can be used to reach high windows. Instead, keep ladders locked up in the garage or storage shed.
Keep the yard well lit by investing in good exterior lighting such as motion detecting lights or body heat sensing lights.
Landscaping has a direct impact on home security. Deter intruders and improve home security by making a few alterations and maintaining well kept landscaping.